So this post is all about Collabro's style! For this I asked their stylist Roxlene a few questions and she was very happy to help me with the material to give you all an insight into the styling of the guys!
Collabro's overall style is elegant and like their music with a twist on the usual! They have their own take on both music and fashion! I really like that they always wear 'the same, but different' by this I mean that they all wear suits and shirts but overall the look is fused together using colour and theme. I love this look as its classic but with a twist! I also love the way it shows their individual personalities!
A very elegant looking Collabro!!
Collabro dressed with a twist on the usual!
Introducing Roxlene, totally look the part!!
So what inspired Roxlene to become a stylist?
"I actually have always had a natural knack for shopping and would pick things out for friends that they would never choose for themselves and would love. At about 14 I realised that I was the person that people wanted to go shopping with!"
Roxlene modelling her style
Here are some examples of Roxlene's work!
Roxlene is a fashion stylist and often gives free advice to anyone who has a fashion query. She is available to hire as a Personal Shopper!!!
Website www.roxlene.com
Twitter & Instagram @Roxlene
Facebook: Roxlene Fashion Stylist - make sure you like her page for regular updates its well worth it!!
http://www.roxlene.com/
I asked Roxlene a few questions!!!!
Will she by styling them for their 2016 Tour?
"Yes I am styling their tour and we are in the process of buying pieces for it at the moment!"
How does she put together an outfit?
"I store all their Collabro clothes and before an event will pull together all style that looks good on each of them individually but also overall its important that it looks coherent. This is usually done using colour. Previously they were looking very matchy, matchy but I like to use more than one colour and make the whole look work tonally for instance blues with greens rather than simply all in navy. I also consider time of year and type of event. A black tie event calls for more expensive shirts and bow ties, summer festivals call for lighter colours and printed shirts, winter nights are perfect for lush velvet and satin fabrics. During the run up to Christmas I'm using a lot of red and/or green highlighted with silver accessories, light ties and lapel pins.
Some patterned shirts here!
Wearing some lush velvet here!
Do you take into account Collabro's individual personalities? Do they have any input into the styling?
"I usually buy what I like for the boys and they are good at trusting my expertise but when its a whole new look for all five I have a conversation with each of them to see if there is anything in particular they would like. For instance Michael has asked for a specific type of shirt for the tour and Jamie wants a particular lapel collar."
"Michael and Matt like a more simple overall style but still want that splash on something 'special' so they will usually have a plainer tie with a lux shirt and a sleek pocket square. Whereas Jamie and Richard like to be a bit more extrovert with print and fabric. Tom will wear anything that fits but his favourite jacket is the black velvet one!"
Thomas is wearing the bow tie above in the next couple of pictures!
Smile Thomas....Roxlene assures me you're happy to wear anything that fits!!
Here Jamie is wearing a floral patterned jacket complemented by Michael's jacket. Take note that the now famous Gucci floral suit that Harry Styles wore recently had already been modelled by Jamie the trailblazer!
"I want to make them look their age as I think that was a large part of their original charm and had been somewhat lost. Tom is the quirky one and I want to celebrate that not hide it."
I also think that the way their vocals blend together seamlessly is reflected in the way Roxlene dresses them. She has interpreted their image from the way they sing perfectly!
"Jamie and Richard can both hold a patten on their larger frames and enjoy doing so! I dress them in stripes, brocade, polka dots or paisley."
Here Richard is wearing paisley and Tom's quirkiness is demonstrated with his bow tie and silver patterned scarf!
Richard wearing a beautiful silver patterned shirt and tie with a silver lapel pin.
Here Richard is wearing a paisley patterned suit and silver paisley tie. Michael wears a satin suit with silver bow tie & pocket scarf. They both have lapel pins to accessorize their outfit.
"Michael and Matt have a shininess to their personalities that I want to bring out in what they wear by putting them in sleek jackets, slim trousers and neat collars."
Do you take into account any other things when styling them?
"Sometimes temperature is a consideration. If the performance is outside in the winter I would never put them in just a shirt and waistcoat, they might want to layer a white t-shirt under a shirt for warmth or in summer the opposite! Then I try to give them a short sleeved shirt under a jacket to make them more comfortable."
Do their clothes get lent to them?
"Clothes are usually bought, occasionally lent."
Do Brands / Stores help in any way?
"We go to Topman, Aquascutum or Harrods to shop occasionally in the personal shopping department."
Do the guys ask your advice for clothes that they wear when they are not working or for private family events?
"Jamie is always sending me pictures of things he loves when he's out shopping asking me what he should get! Richard's style is very similar to the Collabro look anyway and he values my opinion too!
Do you style them for everything including magazine shoots?
"Yes I do, unless a magazine has their own stylist who they want to use but, we haven't been in that situation yet."
Ready for their appearance on ITV's Lorraine Show!
With Lorraine on her show....she must have had the memo on what to wear too!!
What they wore for their performance in Peak Cavern for Sky Arts
Warming up in Peak Cavern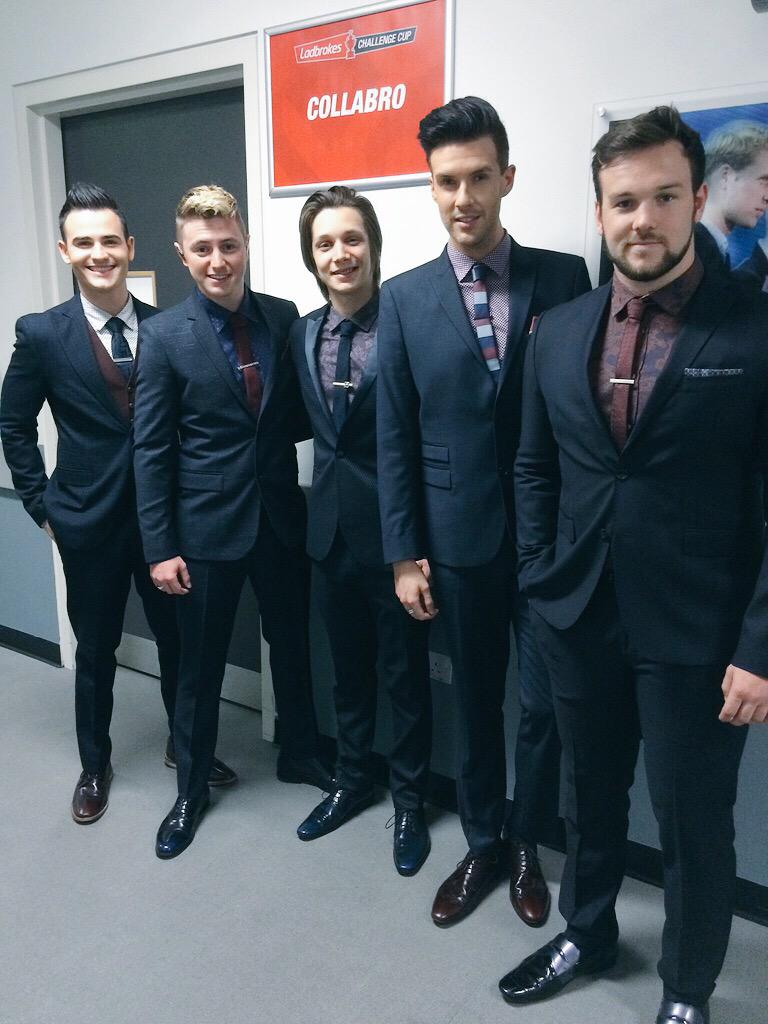 Here they are in Ted Baker
Singing for A Brass Band Wonderland, as it was an unusual venue they are still wearing suits but more individual than usual highlighted with a greater variation in colour. This is an example of Roxlene matching them tonally.