This an interview with BBC Radio Manchester Becky want prior to their show at the Bridgewater Hall venue!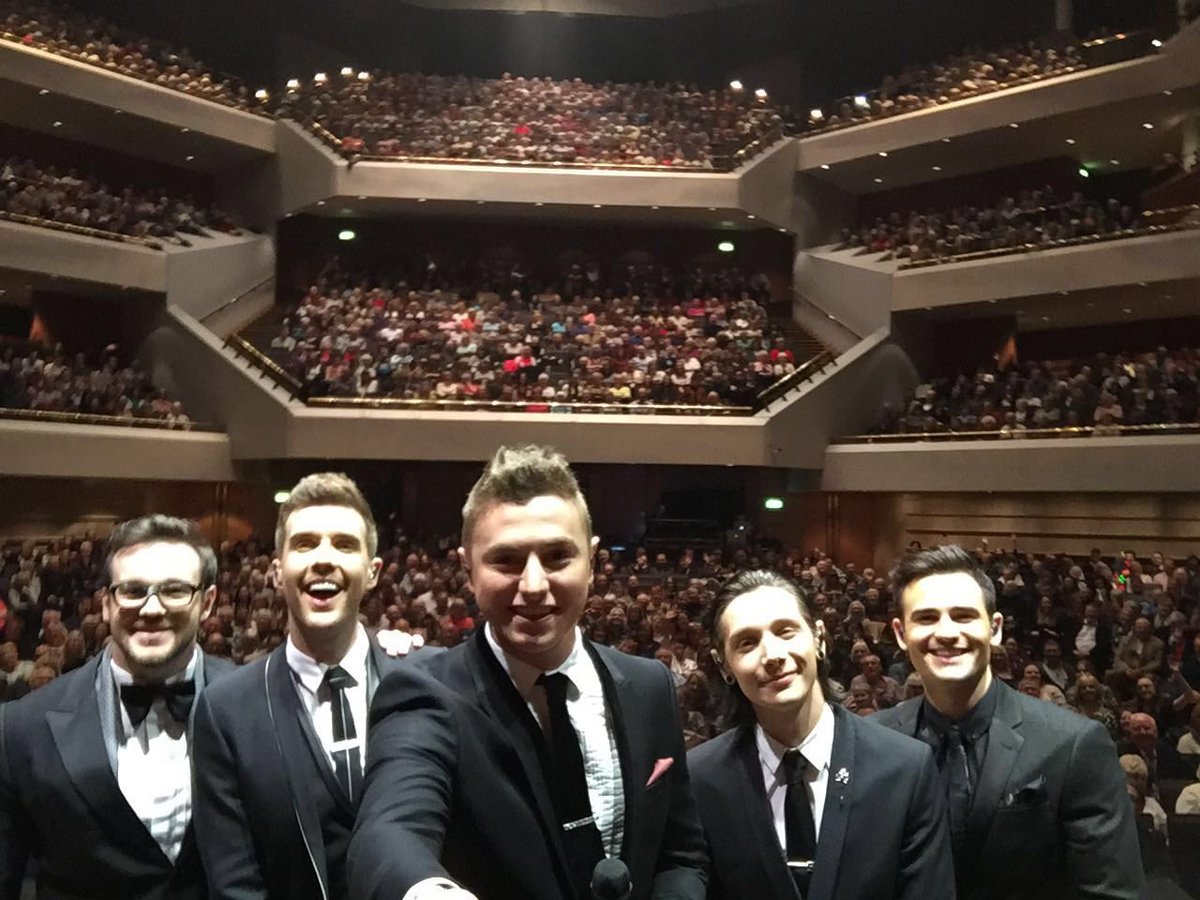 The Selfie from Bridgewater Hall
Here is a transcript as it's only available on iPlayer for 30 days!
Its 1 hr 35 mins into the show.
It starts with host Becky Want introducing them;
BW: Here they are, it says on my script that they are the operatic boys who got to the Britain's Got Talent final after being together for only a month and went on to win! Of course I am talking about Collabro, that was back in 2014 and here they are, Michael, Richard, Jamie, Matt and Tom.
Collabro: All say hello!
BW: Would you agree with that? Operatic boys?
RH: More of a musical theatre boy band really, more of a West End, Broadway kind of sound.
MA: Because we're sort of starting a new trend no one really knows what box to put us in, so we're just trying to break all the rules with you know from opera to pop to swing to everything! It's kinda fun isn't it, breaking all the rules!
JL: Breaking the rules!
MA: Everyone thinks I'm Hermione Granger from Harry potter
JL: He is Hermione Granger!
MP: With a weird voice!
They all laugh
BW: We've been talking to you Jamie because Luis Triano from the Great British Bake Off has just been here and you follow him on Twitter he said, have you met him yet?
JL: Yeah I've just met him outside...I'm waiting for a Bakewell Tart!
RH: (Laughs)
MA: You have to give in to us now, you said it on air, it can't be taken back!
(Luis was a guest earlier on the show!)
BW: OK...I will let you have one of Luis' or maybe more than one Bakewell Tarts! (they all laugh)
Oh surely you can't be eating Bakewell Tart before you're about to go on stage at the Bridgewater Hall tonight...can you?
JL: Some of the boys have crazy metabolisms, Tom especially just has to go the gym to put weight on!
TR: I'm sorry
JL: Which I find like borderline offensive because my metabolism left me when I was about 25!
RH: He's been slowly disappearing, his trousers are getting smaller and smaller.
TR: I've literally...we had a fitting before the tour and since then I haven't been gyming and I've lost weight so I had to get, not a whole new wardrobe but...I'm gonna stop talking because everyone is staring at me really evilly like daggers...
BW: Yea no ones ever got any sympathy with the poor person who can't put on weight!
RH: Yea exactly
BW: You're on a real loser there I'm afraid! So hows it all been going?
MA: It's been amazing I think we've done four shows now and they've all been completely sold out which is insane!
JL: We're at Bridgewater Hall tonight abd we've just release some tickets, out PA we've taken it off the floor so we've got more tickets.
MA: Oh we've opened up more seats?
JL: Yeah, we've opened up more seats so...
BW: Jamie when you said we've taken our PA off the floor I thought you meant your Personal Assisant
JL: No our PA system...(laughs)
BW: So there's more seats at the front?
JL: I don't know if they have shuffled things around but there's definitely some great seats just opened up so...
BW: You've played the Bridgewater Hall before...
RH: Yeah with Jason Manford, Christmas Show
MP: It was, it was lovely and Santa
BW: That is an amazing venue.
RH: Yeah it was really nice and obviously last year we did the Lowry and this year we are doing the Bridgewater Hall and it's just going to be fantastic to do two completely different venues either side of Manchester.
BW: Are you all getting on as well as ever or is that all just a big pretend.
MP: We are but occasionally Tom annoys me because he just sits there and he just like taps and it really annoys me!
TR: Or a leg goes or I move a chair or I swivel...
RH: Fidgety things really annoy you don't they
MP: It does which is ironic because I fidget
JL: He's very fidgety...
BW: Which is why Tom is svelte like because he is fiddling the whole time and twitching all the time...
TR: There you go...
BW: Burning up energy all the time
MA: It's funny, we share a tour van, we're actually in Simon Cowell's first ever tour van and he's actually replaced the seats with first class cabin seats from an aeroplane, so we can now recline...
JL: As you do...
MA: You know...we just chill out
BW: Tell us more about that...that's really cool
MA: It's a plain black van from the outside so no one really suspects anything, then you walk in and there's all these like seat recliners, you've got tables, drinks holders, xbox, ipads, everything
JL: At the back there's a fridge with wine
BW: If it was Simon Cowell's first one how long ago was that then?
They all laugh and agree they shouldn't say!
BW: If he had that years ago then what an earth has he got now!
JL: I don't think he even travels by car any more
BW: Oh doesn't he.
JL: I think he's probably got like a space copter
MP: Like a teleport
BW: Are you friends with him would you say.
JL: We haven't really seen much of him recently because he's obviously been really busy with a baby
MA: We couldn't go to the Brits because we were on tour.
JL: We were on tour but then we saw him actually recently at the Syco party at Kensington Palace...but we had to turn the music down as we were disturbing the baby...Wills and Kate were in residence...we got told off!
BW: That's so funny...all these experiences its amazing
JL: Just drop that one in there...
BW: But impressive I must say! If you're gonna get told off why not be from them!
We've got loads more to talk about...I'm going to play 'I dreamed a dream' from you the Collabro boys!
I love this song and yet again feel emotional at the overwhelmingly beautiful Collabro sound!!
BW: Lovely. lovely stuff, we've got the Collabro boys with us here and that was them singing 'I Dreamed a Dream', Michael, Richard, Jamie, Matt and Tom and tell me about that song actually.
MA: So recently we went to Japan, its sort of a home from home for us, they actually wanted us to sing in Japanese so we learnt I Dreamed a Dream in Japanese and we've actually recorded a track and a music video over there with us singing I Dreamed a Dream in Japanese.
JL: And released it
TR: Which Michael is going to demonstrate for you now!
(they laugh)
MA: I'll do the first line for you now... (he sings in Japanese)
JL: And actually then what they were really impressed with was the fact that we performed it live because most artists just learn it by phonetics and then just never sing it live...but we actually performed it live on our Japanese tour and what's really nice its we've just won a Japanese Gold Disc Award for the top three international artists which is along side Sam Smith and Megan Trainer which is really really cool!
TR: We were actually number one..
MA: We thought we were equal but actually it was one, two and three on the list and we were number one and we were just like we've beaten Sam Smith...he's just won an Oscar
BW: Yeah man of the moment! It is it's amazing...that was fabulous you singing there in Japanese Michael not that I could say oh you got it wrong there...
RH: Exactly
BW: You could sing anything but I'm sure it was ok. Can I also say Jamie, well all of you, apart from Richard have tried the blueberry Bakewell Tart courtesy of Luis Triano who will be listening to hear the verdict.
JL: Delicious...thank you Luis, it was absolutely fab...Bakewell Tart is actually one of my favourites.
MA: Need to try and make some for the rest of us now.
RH: I'm gonna have to catch Luis on a cheat day I think!
BW: Are you on a diet?
RH: I'm just trying to be good
BW: Are you?
JL: It's so easy on tour isn't it just to eat crap
RH: It really is...people bring you huge like Millies Cookies and Toblerone...
MA: I like the fact that we're all trying to eat healthy and we've all given in accept for Richard.
JL: Although Rich did have to have some of that cookie...that was a naughty night
BW: You talk about...people bring you things...I've had loads and loads of Tweets, I knew we would from your fantastically loyal fans
MA: Collaborators!
BW: Yes Collaborators, I always remember that actually it was you Richard who when you won Britain's Got Talent said thank you to our Collaborators
RH: Yeah
BW: It was you...
RH: Yeah
BW: I can see you saying that now and here you are as you say at the Bridgewater Hall tonight, it's a sell out although some tickets have just been released but, here they all still are, following you and loving you.
JL: It's sort of turned from a fan base into a bit of a family actually. It's gone from this really dedicated fan base to these people, they've got their own page on Facebook, the Collaborators page which is a group that they all kind of like from all over the world have celebrations every week of things like Collabro day or...
RH: Michael Monday...
JL: Michael Monday and things and they all open champagne at the same time...it's incredible...they are so cool.
MA: Recently we just did Harrogate and then Blackburn and we saw about ten or twenty people who came to Harrogate and then travelled to Blackburn the next night and paid for a hotel room and everything and booked new tickets so that they could see us again because they were like you're not coming up North again, they just want to come and see us over and over which is great!
BW: No wander you've always got a big smile on your face
MA: Always.
BW: When you think about that though..
MA: We're so lucky...
BW: You're lucky but, there's pressure you know you can't have an off night can you because what if they have travelled all that way and you're certainly not going to be having an off night tonight at the Bridgewater Hall.
RH: Hopefully not, we've just had a day off so hopefully we'll be in fine voice.
JL: Well last year Richard and I were really, really sick and the other boys took our solos, that was Oxford I think and we actually could have cancelled, if one member is sick it's actually really difficult to cover that, I mean we really were ill and we just thought you know what these people have bought tickets to come and see us and we'd feel awful wouldn't we if we didn't go on stage.
RH: Yeah completely.
BW: Just lots and lots of people Tweeting so I'll just say for example Lucy saying listening now, loving it...
MA: Is it Lucy Bailey?
BW: It is...
MA: Oh we know Lucy, she does loads of edits for us like picture edits of they screen shot a live performance she'll put a quote next to it like ....
BW: Aww...well done you for knowing her surname
JL: It's a family
BW: Now Act Two is the current album that's out now...have a great time tonight...are you going to give us a quick burst of something?
MP: We should do a little bit of 'All I Want'
The boys sing A Capella and it's wonderful as always!!
This is where the interview ends!!!